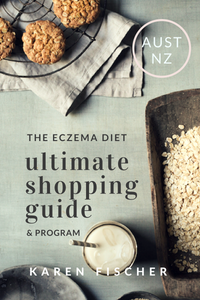 SKIN FRIEND
Eczema Diet Ultimate Shopping Guide & Program (Aus/NZ Version)
The Ultimate Shopping Guide for Eczema, sent straight to your inbox! This all-in-one Eczema Diet shopping list contains hundreds of eczema-friendly food products and brands, which will make your life easier. The printable e-book includes three comprehensive shopping lists, FAQs, eczema-friendly baby foods, and more. 
It takes the guess-work out of buying eczema-friendly products for you and your family.
Free bonus: You will also learn how to diagnose your food intolerances with the unique program developed by nutritionist Karen Fischer.  
The PDF shopping guide includes:
Stage 1 food list, plus
Eczema-friendly

brand names

and specific store-bought products which are low in salicylates and free of additives 
Gluten-free, dairy-free, additive-free and low amine products
Packaged foods that can be conveniently added to your child's lunch box plus pantry and baking items
FAQs and tips to help you understand and follow The Eczema Diet
Vegetarian and vegan options
Baby foods (including packaged/canned options)
Supplement brands, and more
The program is suitable for people with eczema, dermatitis, topical steroid withdrawal (red skin syndrome), psoriasis, chemical sensitivity, hives, rosacea and other skin rashes. 
This particular shopping guide is for people living in Australia and New Zealand. Shopping lists for other countries will be available. If you live in another country, check our product page for the US and Canadian shopping lists which are available from 27 June 2017.
Specifications: 14 pages, A4
Current version: 2.2 
This product is a Digital Download. On the Confirmation page, click on "Access Digital Content" after you place your order or refer to your Order Confirmation email to access the e-book. 
---
More from this collection